Beetrose "Szent Imre (Saint Emery)"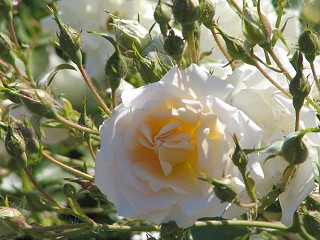 Height

40 cm.

Habit

Spreading.

Flowers

Double, 4-5 cm across, snow-white ageing slightly pinkish.

Scent

None.

Leaves

Light-green, small, semi-glossy.

Blooming period

Starts in mid-May, it is one of the earliest bloomers, and blooms abundantly and continuously to late autumn.

Tips

Althoug it is not susceptible to powdery-mildew, it is susceptible to black spot in autumn. Good for ground cover or bedding.

Parentage

'Huba' x 'Hargita'.

Origin

G. Márk Hungary 1994 ® 2000.