Strauchrose "Mami"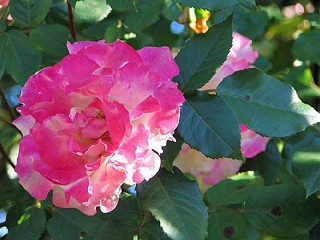 Height

1.5-2 m.

Habit

Upright, moderately spreading.

Flowers

Double, 10-11 cm across, Hybrid Tea-like. When blooming its color is creamy-white, then turns to pink and becomes light cerise when ageing.

Scent

Moderately strong.

Leaves

Dark-green mid-sized, glossy.

Blooming period

Blooming from early or mid-May, it is one of the earliest blooming roses. Blooms almost continuously until late autumn.

Tips

Slightly susceptible to powdery-mildew, tolerates dry weather, it is frost resistant. May be planted as an isolated specimen, or is suitable for pruned, flowery hedges.

Parentage

'Clg. Dame de Coeur' x 'Texas Centenntal'.

Origin

G. Márk, Hungary, 1988, ® 2000.